Improve skin elasticity and wrinkles
Dermotoxin
Skin Btoxin
Skin
elasticity
Fine
wrinkles
Pore
reduction
Lifting
effect
Easier Way To Improve Pore
And Elasticity Concern
What is
Dermotoxin?
Dermotoxin (also known as skin Btoxin) is a diluted solution of botulinum toxin that is injected evenly across the face into the skin's superficial layers. When a diluted Btoxin solution is injected into the outer layers of the skin, you can see instant tightening effects and evened skin tone. When paired with the PRP DermaShine, you'll notice tremendously improved skin with just one session.
Btoxin VS Dermotoxin
HOW DIFFERENT?
| | | |
| --- | --- | --- |
| Inject a small amount of bxotin into a target muscle area | Principle | Inject a small amount of bxotin into multiple skin layers |
| Muscle layer of square jaw, calf and wrinkles on the forehead, frown line, andnasolabial folds | Target area | A skin layer of the whole face with a lack of skin elasticity around jaw line or neck wrinkles |
| 4-6 months | Interval | 2-3 months |
| Wrinkle improvement | Effect | Overall skin elasticity, lifting, fine wrinkle improvement |
Dermotoxin effect
Facial wrinkles
Pore reduction
Skin tone
Hydration
Lifting effect
Maximize the effect by combining with
Hydrolifting (DNA)
Injection
Skin moisturizing
Skin texture improvement
Skin
elasticity
Hydrolifting injection is a procedure
in which hyaluronic acid is evenly injected
into the skin to give more hydration and improve skin elasticity.
Information about Hydrolifting (DNA) injection more in detail ▶
More Recommended Programs
Shurink (Ultraformer III) +
Dermotoxin
Shurink is the latest upgrade in HIFU technology, a non-invasive laser treatment which uses ultrasound to lift and tighten the skin. Compared to conventional HIFU, Shurink is much faster and less ainful, but with good results and no downtime.
Click


for more information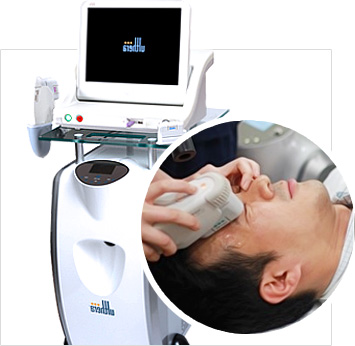 Ultherapy +
Dermotoxin
Ultherapy stimulates fibrous protein production by delivering focused ultrasound energy to the skin's foundational layer typically ddressed in cosmetic surgery?without cutting or disrupting the surface of the skin. It's the original HIFU equipment, approved by the US FDA as a non-surgical alternative to facelift.
Click


for more information
▣Refund/ Indemnify Policy ▣
If a patient have a side effect happened from medical malpractice,
the clinic will do refund and indemnify under Medical Act of Korea.