The best way to properly take care of your skin
after cosmetic surgery
Post-Surgery Treatment
at Renewme
A total treatment package for post
surgical wounds, marks, bruises,
skin elasticity, and whitening!
Skin rejuvenating
lasers for a
speedy wound
recovery
Gold Laser Toning
for treating
bruises and
surgery marks
Laser treatment
to increase
skin elasticity
Whitening
treatment
laser as a bonus!
Infections
Wounds
Irritation
Omega Light
- Treatment for skin infections and wounds
- fibrous protein formation for increased skin elasticity

LED lights use wavelengths to form fibrous protein and are
effective on skin regeneration, skin elasticity, acne treatment,
wound treatment, and cellulite reduction.
Wavelength
[Red] 640 nanometers
[Blue] 423 nanometers
[Green] 532 nanometers
[Yellow] 583 nanometers
Penetration Depth

1.6 mm

1 mm

0.5-2 mm

1-2 mm

Effects
-Revitalizes skin cells
-Accelerates blood circulation
-Relieves acne scars
-Treats atopy, athlete's foot, psoriasis
-Relieves pain

-Sterilizes acne bacteria
-Controls sebaceous glands
-Prevents wound inflammation
-Calms skin troubles

-Soothes skin
-Strengthens sensitive skin
-Relaxes body
and mind
-Improves redness and flushing
-Treats pigmentations

Omega Light Treatment
Prior medication-based acne treatment methods had harsh side effects (such as foetal deformities) and only offered a temporary solution. PDT (Omega light, photodynamic therapy) is the latest technology that minimizes all the flaws of former methods. By using specific wavelengths to destroy acne bacteria and reduce sebum, Omega light offers a quick and effective way to treat acne and remove blackheads, as well as cleanse pores and exfoliate. Originally developed to reduce pain and dress wounds, PDT is now also used for post-surgical recovery, hair restoration, aesthetic skin care, and obesity.
Evokin
Continuous emission of low-level Evokin lasers increase protein, treat infections, and increase growth factors to stimulate fibrous protein regeneration within fibroblasts.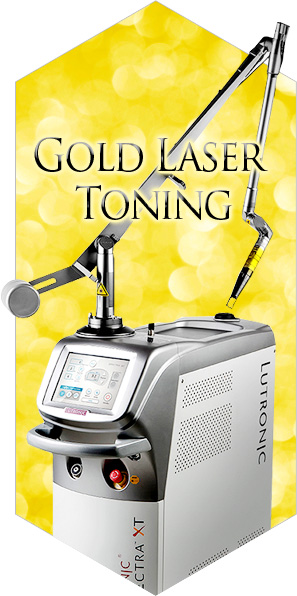 Gold Laser Toning
Aside from treating pigmentation, flushing, and vascular conditions, Gold Laser Toning can also have a facelift effect. It is the ideal treatment for most skin problems that can occur from cosmetic surgeries.
How It Works
Gold Toning utilizes the gold hand-piece by SPECTRA in combination with laser toning, which is already the best known treatment for freckles. The result is a new treatment method for the more difficult spots, or for post-inflammatory hyperpigmentation.
Unlike prior laser toning, Gold Toning can also treat erythema.
In addition to the 1064 nm wavelength (the ideal option for freckle treatment), Gold Toning also uses the 595 nm wavelength, which demonstrates high absorption of melanin and hemoglobin. Not only does this heighten the effects of freckle treatment, but it also enables
partial removal of pigmented lesions.
Compared to previous laser toning, the Gold Toning combination is a more upgraded way to target lesions,
since it also manages to restore the cells and microvessels surrounding the lesion area.

▣Refund/ Indemnify Policy ▣
If a patient have a side effect happened from medical malpractice,
the clinic will do refund and indemnify under Medical Act of Korea.